Fiat Chrysler Earnings Jump as SUVs Drive Profitability Gains
Fiat Chrysler Automobiles (NYSE: FCAU) said its adjusted operating profit rose 17% in the third quarter, to 1.76 billion euros, on improved profitability in its critical North America region and gains in Europe and Latin America.
FCA's third-quarter revenue fell 2% from a year ago, to 26.4 billion euros. Both profit and revenue were roughly in line with the average estimates from Wall Street analysts polled by Thomson Reuters.
The new Alfa Romeo Stelvio SUV helped boost FCA's margins in North America and Europe. Image source: Fiat Chrysler Automobiles N.V.
FCA's third quarter: The raw numbers
All financial figures are in euros. As of October 24, 1 euro = about $1.18.
| Metric | Q3 2017 | Change vs. Q3 2016 |
| --- | --- | --- |
| Revenue | 26.4 billion | (2%) |
| Vehicles shipped | 1.12 million | (1%) |
| Adjusted earnings before interest and tax (adjusted EBIT) | 1.76 billion | 17% |
| Adjusted EBIT margin | 6.7% | +110 basis points |
| Net profit | 910 million | 50% |
| Adjusted earnings per share | 0.592 | 25% |
Data source: Fiat Chrysler Automobiles. "Adjusted" figures exclude the effects of one-time items. Vehicles shipped includes totals from FCA's joint ventures with Chinese automakers.
| Metric | As of September 30, 2017 | As of June 30, 2017 |
| --- | --- | --- |
| Debt | 18.64 billion | 19.14 billion  |
| Available liquidity | 19.55 billion | 19.95 billion |
| Net industrial debt | 4.405 billion | 4.226 billion |
Data source: Fiat Chrysler Automobiles. "Available liquidity" is the total of cash and credit lines available to FCA's automaking business. "Net industrial debt" is total debt, minus available liquidity, minus debt related to FCA's financial-services unit. 
How FCA's business units fared
North America
FCA has operations around the world, but North America (FCA's "NAFTA" region) drives the lion's share of its profits. While FCA's sales and shipments in North America both fell in the third quarter from the third quarter of 2016, its profitability improved: FCA's EBIT margin in North America was 8% in the third quarter, up from 7.6% a year ago, on lower fleet sales and good results for its Ram pickup trucks and new Alfa Romeo models. The region's revenue fell 4%, but its adjusted EBIT rose slightly from a year ago, to 1.3 billion euros. 
That's an important improvement. FCA has sought to close the profitability gap between it and its old Detroit rivals in North America. It's getting closer: FCA's third-quarter margin was close to the 8.3% margin that rival General Motors (NYSE: GM) posted in North America in the third quarter. (Ford Motor Company (NYSE: F) will report its third-quarter results on October 26.)
Europe
In Europe, FCA's adjusted EBIT of 127 million euros was a 22% improvement over its year-ago result. Adjusted-EBIT margin of 2.6%, while still low, was up from 2.1% in the third quarter of 2016. Commercial-fleet sales were down, but good results for the all-new Jeep Compass and Alfa Romeo Stelvio SUVs helped.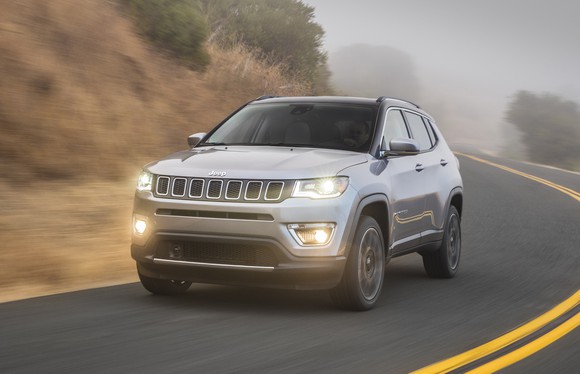 The all-new Jeep Compass helped FCA's profitability in Europe. Image source: Fiat Chrysler Automobiles N.V.
Latin America
FCA's Latin America unit earned 59 million euros on an adjusted-EBIT basis, an improvement over a 16-million-euro loss a year ago. Shipments rose 26%, and revenue climbed 42% to 2.1 billion euros. The story here is simple: Major economies in the region are improving.
Asia
FCA's Asia Pacific and China unit earned 109 million euros in adjusted EBIT, up from 21 million euros a year ago. Shipments rose 8% to about 66,000, but revenue fell 9% to 782 million euros on unfavorable exchange-rate effects. Higher production of Jeeps and Alfa Romeos in China helped; lower imports of Jeeps to China offset the gain to some extent.
Maserati
FCA's Maserati luxury brand reports its results separately, on a global basis. Maserati's adjusted EBIT rose 10% to 113 million euros, on a 2% gain in worldwide shipments. A favorable change in "mix" (more Levante SUVs, fewer sedans) helped boost the brand's adjusted-EBIT margin by 2 percentage points to 13.8%.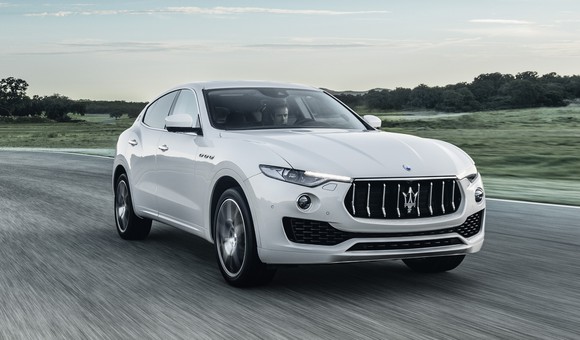 Same story, different brand: Maserati's profit margins were already good, but strong sales of the Levante SUV have helped make them better. Image source: Fiat Chrysler Automobiles N.V.
Components
FCA's Components unit, which includes its Magneti Marelli, Comau, and Teksid parts subsidiaries, generated 127 million euros in adjusted EBIT, up 13% from a year ago, on a 1% increase in revenue (to 2.4 billion euros) and an increase in EBIT-adjusted margin to 5.3% from 4.7% in the third quarter of last year. FCA credited the profitability gain to improvements in manufacturing efficiency at Magneti Marelli.
Looking ahead: FCA confirmed its prior full-year guidance
As it did in the second quarter, FCA once again confirmed its prior guidance for the full year. It still expects:
Net revenue of between 115 billion and 120 billion euros.
Adjusted EBIT of more than 7 billion euros.
Adjusted net profit of more than 3 billion euros.
Net industrial debt below 2.5 billion euros as of year-end.
10 stocks we like better than Fiat Chrysler Automobiles
When investing geniuses David and Tom Gardner have a stock tip, it can pay to listen. After all, the newsletter they have run for over a decade, Motley Fool Stock Advisor, has tripled the market.*
David and Tom just revealed what they believe are the 10 best stocks for investors to buy right now... and Fiat Chrysler Automobiles wasn't one of them! That's right -- they think these 10 stocks are even better buys.
Click here to learn about these picks!
*Stock Advisor returns as of October 9, 2017
John Rosevear owns shares of Ford and General Motors. The Motley Fool owns shares of and recommends Ford. The Motley Fool has a disclosure policy.