Why Johnson & Johnson Stock Has Lost 13% So Far in 2018
What happened
Shares of healthcare titan Johnson & Johnson (NYSE: JNJ) trailed the market through the first six months of 2018 by shedding 13%, compared to a 2% uptick in the S&P 500, according to data provided by S&P Global Market Intelligence.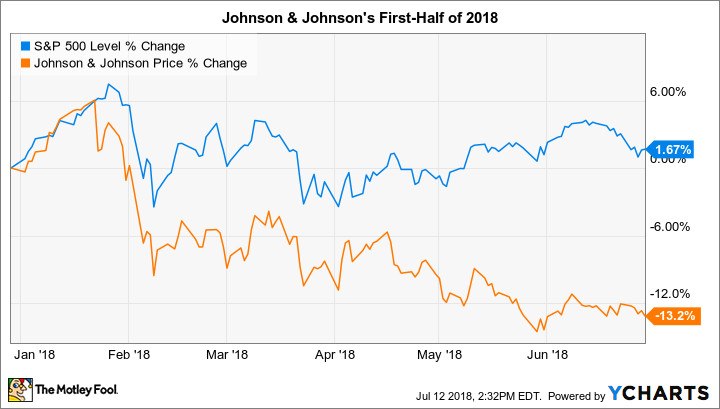 The decline has pushed the stock below broader market returns over the past one-year and three-year time frames.
So what
Johnson & Johnson's latest results haven't given investors much to worry about. In fact, sales and profits beat expectations in the most recent quarter, thanks mainly to a booming pharmaceutical segment. The drugmaker's portfolio continues to grow, which is helping offset some of the pain from declining prices for its blockbuster Remicade treatment.
Image source: Getty Images.
Now what
CEO Alex Gorsky and his team raised their sales outlook in April, and now believe organic growth should range between 4% and 5%, up from the prior target of between 3.5% and 4.5%. Over the short term, investors are concerned that a political battle over drug pricing might harm Johnson & Johnson's profitability, and so shares are likely to react to major news on that front.
The long-term competitive outlook is bright, though. It's especially so considering that reduced tax expenses are slated to power a 15% increase in research and development spending over the next four years, to $30 billion.
10 stocks we like better than Johnson & Johnson
When investing geniuses David and Tom Gardner have a stock tip, it can pay to listen. After all, the newsletter they have run for over a decade, Motley Fool Stock Advisor, has quadrupled the market.*
David and Tom just revealed what they believe are the 10 best stocks for investors to buy right now... and Johnson & Johnson wasn't one of them! That's right -- they think these 10 stocks are even better buys.
Click here to learn about these picks!
*Stock Advisor returns as of June 4, 2018
Demitrios Kalogeropoulos has no position in any of the stocks mentioned. The Motley Fool owns shares of Johnson & Johnson. The Motley Fool has a disclosure policy.