Why American Airlines Group, Inc. Stock Jumped 13.6% in May
What happened
After a lackluster start to the year, American Airlines (NASDAQ: AAL) shares got back on track in May, buoyed by improving sentiment among airline investors.
Airline industry unit revenue trends are starting to move in the right direction again, while fuel cost increases have subsided. As a result, American Airlines stock rose 13.6% last month, according to data from S&P Global Market Intelligence.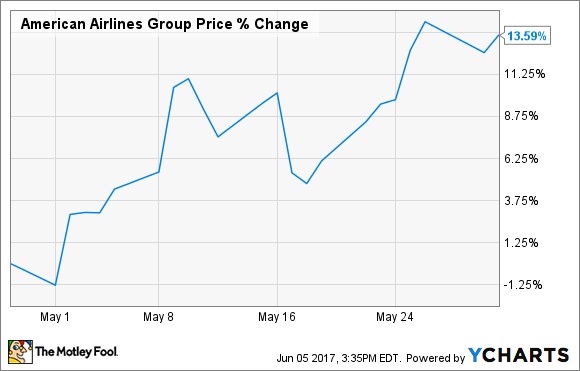 American Airlines Stock May Performance. Data by YCharts.
So what
American Airlines stock plunged in late April after the company voluntarily raised wage rates for its pilots and flight attendants to match competitors' increases. This move was probably necessary to keep employees happy, but it stirred up fears that unit cost growth would continue to outpace unit revenue growth.
However, American Airlines dispelled some of those fears last month, as it raised its second-quarter unit revenue and profit margin guidance.
Initially, American had forecast that revenue per available seat mile (RASM) would rise 3%-5% this quarter and that its pre-tax margin would be 11%-13%. However, the carrier now expects RASM to increase 3.5%-5.5% and its pre-tax margin to reach 12%-14%. Aside from the strengthening fare environment, American Airlines expects to benefit from a recent decline in oil prices.
Now what
Notwithstanding its improved second-quarter guidance, American Airlines is still on pace to report another year-over-year earnings-per-share decline this quarter. Furthermore, year-over-year unit revenue comparisons will be much tougher in the second half of the year.
As a result, American Airlines will probably struggle to maintain its advantage over peers in terms of unit revenue growth later this year. If unit revenue growth slows down, the carrier's cost creep and heavy debt burden may come back into focus. That could pull American Airlines stock back down again.
10 stocks we like better than American Airlines Group
When investing geniuses David and Tom Gardner have a stock tip, it can pay to listen. After all, the newsletter they have run for over a decade, Motley Fool Stock Advisor, has tripled the market.*
David and Tom just revealed what they believe are the 10 best stocks for investors to buy right now... and American Airlines Group wasn't one of them! That's right -- they think these 10 stocks are even better buys.
Click here to learn about these picks!
*Stock Advisor returns as of June 5, 2017

Adam Levine-Weinberg has no position in any stocks mentioned. The Motley Fool has no position in any of the stocks mentioned. The Motley Fool has a disclosure policy.