Why Sears Holdings Stock Sank 13% Today
What happened
Things are not looking good for Sears Holdings (NASDAQ: SHLD) -- although that's not exactly breaking news.
What is news is that it's starting to look like folks may be shutting off the lights at Sears before too much longer. Over the past year, Sears stock has lost 77% of its value, and on Wednesday, the stock closed down another 13.1% after news broke that one of the retailer's best brands is about to be sold out from under it.
Specifically, in an SC 13D filing with the SEC, hedge fund ESL Investments (whose CEO, Eddie Lampert, is also CEO of Sears) confirmed that it has offered to buy Sears' Kenmore brand and also its Home Improvement business.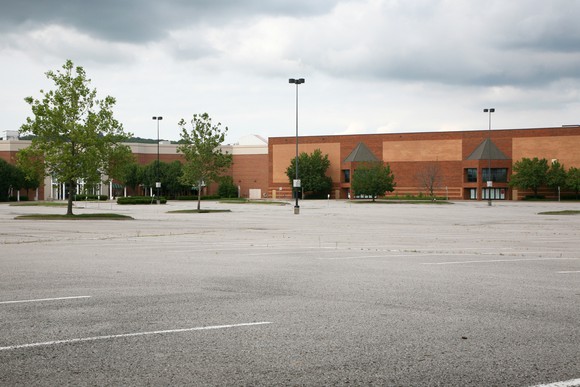 Sears' parking lot may be devoid of shoppers, but at least the retailer has found a buyer for Kenmore. Image source: Getty Images.
So what
ESL characterized its offer as a means of providing Sears up to $480 million in cash needed to "allow Sears to reduce its debt, extend its maturity profile and alleviate its liquidity challenges." That being said, even if the deal goes through, it would at best eliminate barely 15% of Sears' $3 billion-plus net debt load.
Assuming a corresponding 15%-ish reduction in Sears' $577 million in annual interest payments, this deal would save Sears at most $91 million in interest -- not nearly enough to turn Sears' annual losses, which currently top $1 billion, into a profit.
Long story short, the net effect of this deal may be to save the Kenmore brand for posterity. It won't, however, be enough to save Sears stock. I suspect that's the reason why investors sold off Sears shares so hard today.
10 stocks we like better than Sears Holdings
When investing geniuses David and Tom Gardner have a stock tip, it can pay to listen. After all, the newsletter they have run for over a decade, Motley Fool Stock Advisor, has quadrupled the market.*
David and Tom just revealed what they believe are the 10 best stocks for investors to buy right now... and Sears Holdings wasn't one of them! That's right -- they think these 10 stocks are even better buys.
Click here to learn about these picks!
*Stock Advisor returns as of August 6, 2018
Rich Smith has no position in any of the stocks mentioned. The Motley Fool has no position in any of the stocks mentioned. The Motley Fool has a disclosure policy.