Amazon.com, Inc. Has Ambitious Plans for Grocery Stores
For Amazon.com (NASDAQ: AMZN), 2016 was a year of rapid expansion, as the e-commerce giant further extended its sprawling retail operations. Amazon's digital offerings, for instance, leveled up with huge investments in original content and a new Prime benefit of unlimited reading of a rotating selection of top Kindle books and magazines. Furthermore, Amazon.com's hardware ambitions took off as sales of its Alexa-enabled smart home assistants grew and as the company introduced new versions of the devices. Then, of course, there's Amazon's continued rapid expansion of one-hour delivery for Prime members, with one-hour delivery for restaurants launching in Dallas, Miami, Atlanta, Houston, Brooklyn, and Irvine.
And now Amazon is even launching an impressive brick-and-mortar retail model for its Amazon Fresh grocery products, signaling the beginning of what could end up a direct assault on grocers like Wal-Mart (NYSE: WMT) and Whole Foods Market (NASDAQ: WFM).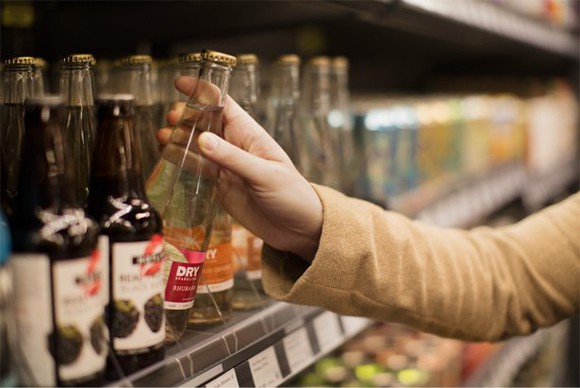 Amazon's new checkout-free, convenience-style grocery store. Image source: Amazon.com.
Amazon's cashier-less grocery store
On Monday, Amazon launched a small, 1,800 convenience-style store, equipped with grocery essentials like bread, milk, and snack options. Key to the store's differentiation, the Amazon Go store features a checkout-free shopping experience it calls "Just Walk Out Shopping."
Amazon explained the store's model on its website: 
Four years ago we asked ourselves: what if we could create a shopping experience with no lines and no checkout? Could we push the boundaries of computer vision and machine learning to create a store where customers could simply take what they want and go? Our answer to those questions is Amazon Go and Just Walk Out Shopping.
The store will feature on-site chefs and even curate items from local kitchens and bakeries, Amazon says. In addition to individual items, the Amazon Go store will include complete dinners and meal kits.
The store will open in Amazon's hometown, Seattle, and is currently open only to employees in the company's Beta program. But Amazon says it will open the store to the public in "early 2017."
Notably, the Amazon Go store format takes a different approach from Wal-Mart's plans to continue expanding a curbside pickup service that lets customers order online and pick up items in a drive-thru. But it does directly attack an issue many grocers are struggling to solve: streamlining the point-of-sale process. Wal-Mart has attempted to help reduce lines and streamline checkouts with self-checkouts and new payment options. And Whole Foods has been particularly ambitious in this area, being one of the first retailers to support Apple's fingerprint enabled wireless payment technology across all of its stores. Amazon's Just Walk Out Shopping technology, however, is arguably the most extreme demonstration of a seamless point-of-sales process yet.
Just the beginning
While Amazon may have only opened one of its Amazon Go stores so far, this is likely just the start of a bigger brick-and-mortar store expansion, according to a Monday report from The Wall Street Journal. Depending on how well initial tests of at least three different brick-and-mortar store formats go, Amazon will open over 2,000 brick-and-mortar grocery stores, said WSJ, citing "people familiar with the matter."
For context, with a brick-and-mortar presence this big, Amazon's brick-and-mortar store count would easily surpass Whole Food's 464 stores in the U.S., but would still meaningfully lag Wal-Mart's approximate 4,600 U.S. locations. Of course, even at 2,000 locations, Amazon's brick-and-mortar grocery sales would likely still be far behind Wal-Mart's, given the huge amount of real estate each of Wal-Mart's stores dedicates to groceries.
But a brick-and-mortar expansion from Amazon would likely aim to see benefits beyond higher sales. As the Amazon Go concept's emphasis on computer vision and deep learning suggests, the stores could help the company generate useful data about customers. Also, these stores could help support the company's expanding Amazon Fresh grocery delivery service, serving simultaneously as storefronts and an extension of Amazon Fresh distribution centers.
Going into 2017, Amazon investors should definitely keep an eye on the e-commerce giant's nascent efforts in groceries.
10 stocks we like better than Amazon.com
When investing geniuses David and Tom Gardner have a stock tip, it can pay to listen. After all, the newsletter they have run for over a decade, Motley Fool Stock Advisor, has tripled the market.*
David and Tom just revealed what they believe are the 10 best stocks for investors to buy right now... and Amazon.com wasn't one of them! That's right -- they think these 10 stocks are even better buys.
Click here to learn about these picks!
*Stock Advisor returns as of Nov. 7, 2016

John Mackey, co-CEO of Whole Foods Market, is a member of The Motley Fool's board of directors. Daniel Sparks has no position in any stocks mentioned. The Motley Fool owns shares of and recommends Amazon.com and Whole Foods Market. Try any of our Foolish newsletter services free for 30 days. We Fools may not all hold the same opinions, but we all believe that considering a diverse range of insights makes us better investors. The Motley Fool has a disclosure policy.