Why 3D Printing Stocks Jumped Today
What happened
Shares of 3D printing stocks surged higher in trading on Tuesday after an investment bank upgraded the two big players in the sector. 3D Systems (NYSE: DDD) jumped as much as 16.3%, and Stratasys (NASDAQ: SSYS) gained 13%. Interestingly, ExOne (NASDAQ: XONE) and Proto Labs (NYSE: PRLB), which often trade in tandem with the big 3D printing stocks, were only up a few percentage points.
So what
Piper Jaffray upgraded both stocks from neutral to overweight and put a $17 price target on 3D Systems and a $19 price target on Stratasys. Oddly enough, the price target is a big increase from 3D Systems' $12.60 price as of this writing, but a steep drop from Stratasys' $24.75 price.
The upgrade comes just before fourth-quarter 2018 earnings begin to come out following a year of underwhelming results from the industry. You can see below that 3D Systems, Stratasys, and ExOne are all losing money, and the only one profitable today is Proto Labs, which offers 3D printing as a service.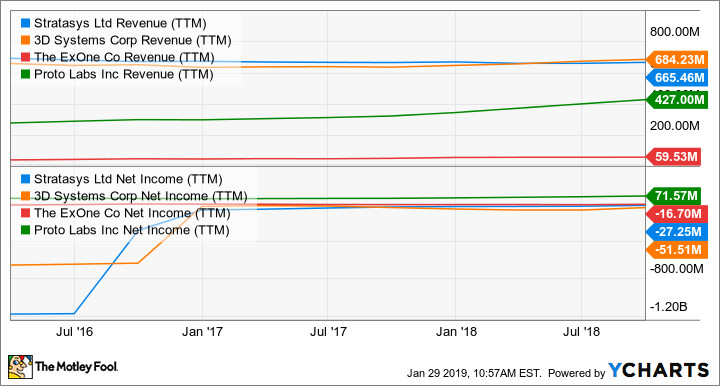 SSYS Revenue (TTM) data by YCharts.
Now what
Analyst upgrades can often move stock prices over the short term, but in the long term, shares are driven by the financial performance of the underlying company. That's why I would be cautious jumping on a move like today's. If 3D printing stocks were being driven by a return to growth or a sharp rise in margins, that would be one thing, but that's not the reason for today's surge.
I am more concerned about the fundamentals of the 3D printing business heading into 2019. Consumers have clearly not adopted the technology en masse and businesses have very slow adoption curves, leading to stagnant industry revenue. Worse yet, margins have been slipping over the past two years. That's why we're seeing the financial losses I pointed out above.
The investment thesis for 3D printing stocks hasn't changed today, despite the move in 3D Systems' and Stratasys' shares. There are a still a lot more questions than answers for the industry, and an analyst upgrade does nothing to give investors certainty that the future is getting brighter.
10 stocks we like better than 3D Systems
When investing geniuses David and Tom Gardner have a stock tip, it can pay to listen. After all, the newsletter they have run for over a decade, Motley Fool Stock Advisor, has quadrupled the market.*
David and Tom just revealed what they believe are the 10 best stocks for investors to buy right now... and 3D Systems wasn't one of them! That's right -- they think these 10 stocks are even better buys.
Click here to learn about these picks!
*Stock Advisor returns as of November 14, 2018
Travis Hoium has no position in any of the stocks mentioned. The Motley Fool owns shares of and recommends Proto Labs. The Motley Fool recommends 3D Systems and Stratasys. The Motley Fool has a disclosure policy.